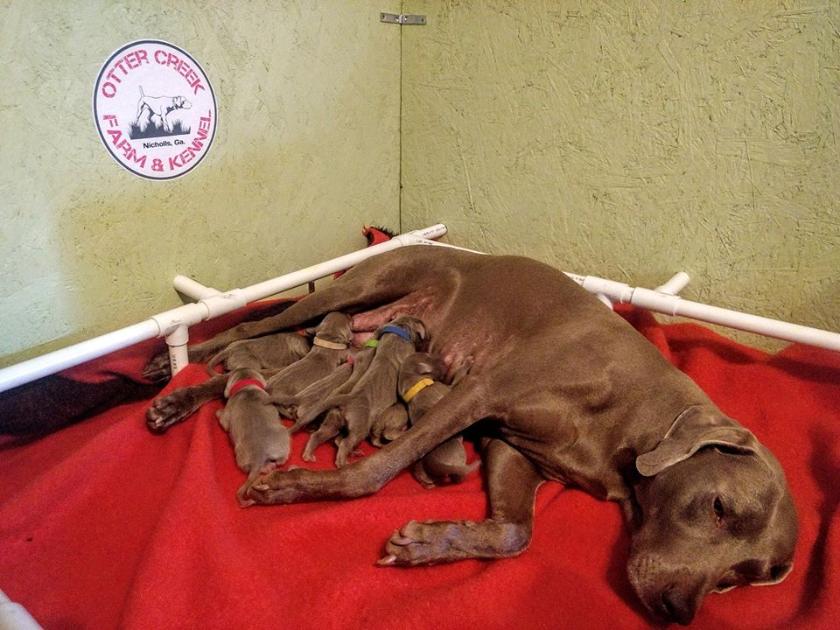 Ottercreek and southpaws last second hail mary jDB
"Jordi" Owned by Justin Buehring
Jordi was an independent strong & tough little pup while we had her here. According to Justin she's living up to just that since she is already as a young dog about finished breaking. She's been living life hunting on all wild birds in Texas and Kansas with a short but nice Field Trial career skipping her Juvy stuff and moving right into being a nice mannered Gun Dog. She placed 3rd in the NWA Derby Championship. Keep a watch on this girl at JDB Gun Dogs.
Ottercreek Southpaw Runningbrir Chic
"Chic" owned by Van Mills
Chic started showing alot of potential as a youngster winning her first All Breed Field Trial at 6 months of age in a puppy stake! From there she went on to get a Navhda NA Prize 1 to show her versatility. From Field Trials or hunting wild quail in Ga. to Pheasant in Kansas; she is right at home with her guy Van.
Chic finished her Juvenile field trial career getting all of of her points pretty easily with Winning or getting 2nd place in almost every stake she ran. Watch out when this girl makes her debut in Gun Dog and Navhda UT Test.
Otter creek and Southpaw I'm your huckleberry
"Duke" Owned by Dustin Reeves
Duke has came into his own as he has aged showing a lot of potential to be something great. Style, nose, range, application; he seems to have it. He's placed and won some All BreedDerby stakes with a short career to get started. Keep an eye on this guy!
Ottercreek & southpaw jack of all birds
"Evert" Owned by Kadi Harjak & Adam Dschulnigg
This guy here is what versatility is all about. Living in Sweden, he hunts wild boar one day to birds the next, either competing at trials or hunting. He has made his hunting buddy Adam happy so far becoming a very bold, independent boy living up to what a Weimaraner was bred for true versatility. You can keep up with him easier at http://snaiperdogs.com/en/ .
Oct. 2019 Evert won the Club Retrieving Championship
Ottercreeks southpaw southern lady
"Sandy" Owned by Yury Burlin
Sandy is a hot little ticket, full of life but laid back around home. So far, she has been hunting all over Russia on wild Snipe, Partridge, and Quail while maturing to start running field trials. We are looking forward to seeing more of what this girl has in store for Field Trials inRussia.
Ottercreek's emma woo woo v. zdon
"Emma" Owned by Stan & Doreen Zdon
Full of Zest and Style, Emma won the Zdons over pretty quick. They owned Ziggy a very well known boy in our breed for his accomplishments but also he is Emmas Great Grandsire. This is a big Legacy and even bigger shoes for Emma to fill back home with the Zdon's but she is off to a pretty good start so far placing in the only field trial (All Breed)she ran in as just a youngster and already putting birds in the bag on hunts. Keep up with this girl they are just getting started!
Ottercreek & southpaw's poetry in motion
"Callie" Owned by Bill & Barb Schiemann
One of the smallest but most feisty of the bunch, loads of style, zest, and independence. Callie went home to live life with her sire, Raiden, at the Schiemanns. From what I hear, she seems to be a little natural on land and water. We are looking forward to seeing more of this girl.
"Duke"
Owned by The Raby's
Duke lives life running his owners construction company. On the job daily he gets to explore job sites and live life to the fullest; pretty good gig. I have to say, he looks pretty good too.