"Bailee"
NFC NAFC FC AFC Southpaw & OtterCreeks Bailee Belle JH,NRD, NA Prz III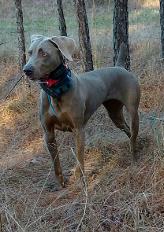 The girl that started it all. Always serious, and always in that hunting mindset. A true versatile girl that is always up for the task and ready to take whatever comes her way full ahead. Bailee is a small zippy little girl with a nice shooting dog race, great nose, and style!
Bailee won the 2016 WCA National Field Championship & National Amateur Field Championship also finishing her Field Championship & Amateur Field Championship!!!
"Stride"
Southpaw & OtterCreeks Takin it N' Stride, NA Prz I (Field & Show Pointed)
*Available for Stud to approved Bitches*
Hips, Elbows, and Thyroid OFA Normal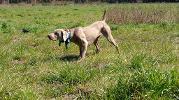 Stride seems to be the total package on land or in water. He's only had a few stakes ran as a gun dog but looks like he has a bright future ahead of him Field Trialing. Stride has power, nice easy moving run, good gundog range, and a lot of style. He's also one of the most easy going loving guys you'll meet.
"Louie"
Southpaw & OtterCreeks Big Louie ( Field Pointed )
*Available for Stud to Approved Bitches*
Hips OFA Approved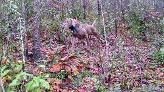 A complete goofball who just captures everyone's attention he gets around. He's not personally mine, he belongs to his best buddy in the world my daddy. As goofy and playful as he is this guy is just all business in the fields, crazy bird drive, a big runner, and broke out easy as a bonus!
"Hallie"
Southpaw & OtterCreek Hailee Belle NRD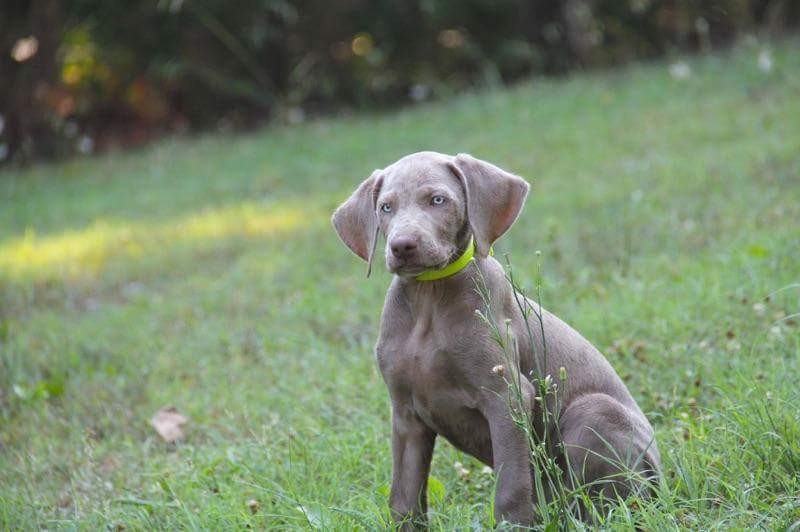 Hallie is our newest member of the family from our Bailee X Stride breeding. This little girl is showing a lot of promise on land & in the water looking to be a true versatile girl like her mama Bailee. We'll see what unfolds in this girls future as she ages.
"Ollie"
Southpaw & OtterCreek Idle Low ( Field Pointed )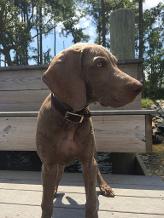 Ollie is co/owned by Meredith Wadsworth/Bill Prilliman (Southpaw Weims) and ourselves off our Stride x Bailee breeding. So far this little guy is showing a lot of promise in the field already earning his first Juvenile field point at 6.5 months of age and a great all around boy anywhere else. Time will tell what this guys future holds.